Salem Capital Pride is proud to present Pride in the Park, our annual celebration for Salem and the Mid-Willamette Valley
Our annual event is growing! Last year we had almost 7000 people attend Pride in the Park, and we hope to break that record. This year we will be celebrating the LGBTQ+ Community with live music and performances from 10 am to 6 pm at the Gerry Frank Rotary Amphitheater; an art show at the small amphitheater; booths with local vendors, non-profits, and activities across the meadow. One day, we may take over the whole park!
Thank you to our 2023 Sponsors
---
Donate
We rely on donations to keep Pride (and our other events and programs) free to the public. Donations also help us reduce our dependence on other funding sources and help keep our programs independent and sustainable.
---
Volunteer
Pride is only possible because of volunteers from the community. Come out and help us put on a great event!
---
Planning Meetings
Come to our planning meetings and help us make Pride great and have your voice heard! We generally meet the first Wednesday of every month (except July) online and in person. Check our Facebook for exact dates & times.
Look for our planning/board meetings on our Facebook under the Events tab
---
Attending Pride
Weather
Pride in the Park is an outdoor event so you should prepare accordingly. The high is forecast to be in the low 90s. Protection from the sun and staying hydrated will be important. You can visit our safety booth for free water and sunscreen throughout the day.
We expect the air quality index to be elevated. Sensitive groups should consider limiting time outdoors or staying home.
Parking
Parking at Riverfront will be limited. We recommend parking at one of the free downtown parkades. The closest ones are the Liberty Parkade (access off Ferry st) or the Chemeketa Parkade (access off Commercial St).
Seating
Our main entertainment will be at the new amphitheater with has two different levels of grass seating, bringing a camping chair or blanket to sit on may make things more comfortable for you. Some folding chairs will be available.
Please be mindful of the roped off area for our interpreters, so as to not block line of sight, but otherwise sit wherever is most comfortable, and feel free to move our popup tents for shade if you need.
Vendors/Cash
Most if not all of our vendors accept electronic payment, but you may still want to bring cash to tip the entertainers, participate in the raffle, or otherwise spend at the event. Salem Capital Pride holds no liability for lost or stolen good or money.
Security
We have hired private security for the event. Even though our event has no history of violence or disruption, we want to be prepared. They will be patrolling all sections of the event. If you see anything, please report it to our trained security guards and do not deal with it directly.
Accommodations
An ASL interpreter will be present. Nearly all of the booths will be along concrete paths for wheelchair-accessibility. We will have two sensory relief booths, one near the info booth and one at the northmost end of the Vendors & Booths area (far away from the stage). These booths will have earplugs, blankets, chairs, fidget toys.
Free masks, water, sunscreen, snacks, and first aid supplies are available at the info booth and cooling station.
If you require any type of accommodation please let us know by emailing us at salemoregonpride@gmail.com. We will do our best to make things as accessible as possible.
Food & Drink
We have a number of food vendors and a beer/wine garden, but you are welcome to bring your own food and (non-alcoholic) beverages to have a picnic or enjoy while watching performances.
Alcohol is prohibited outside the beer/wine garden area. Smoking is also prohibited.
Children & Families
Children and families are welcome at Pride! There will be an area with activities just for kids, such as face painting or button making.
Please keep in mind that because this is a Pride event, throughout other areas of the event there may be references to mature topics and/or artistic depictions of nudity. Parental guidance is suggested.
---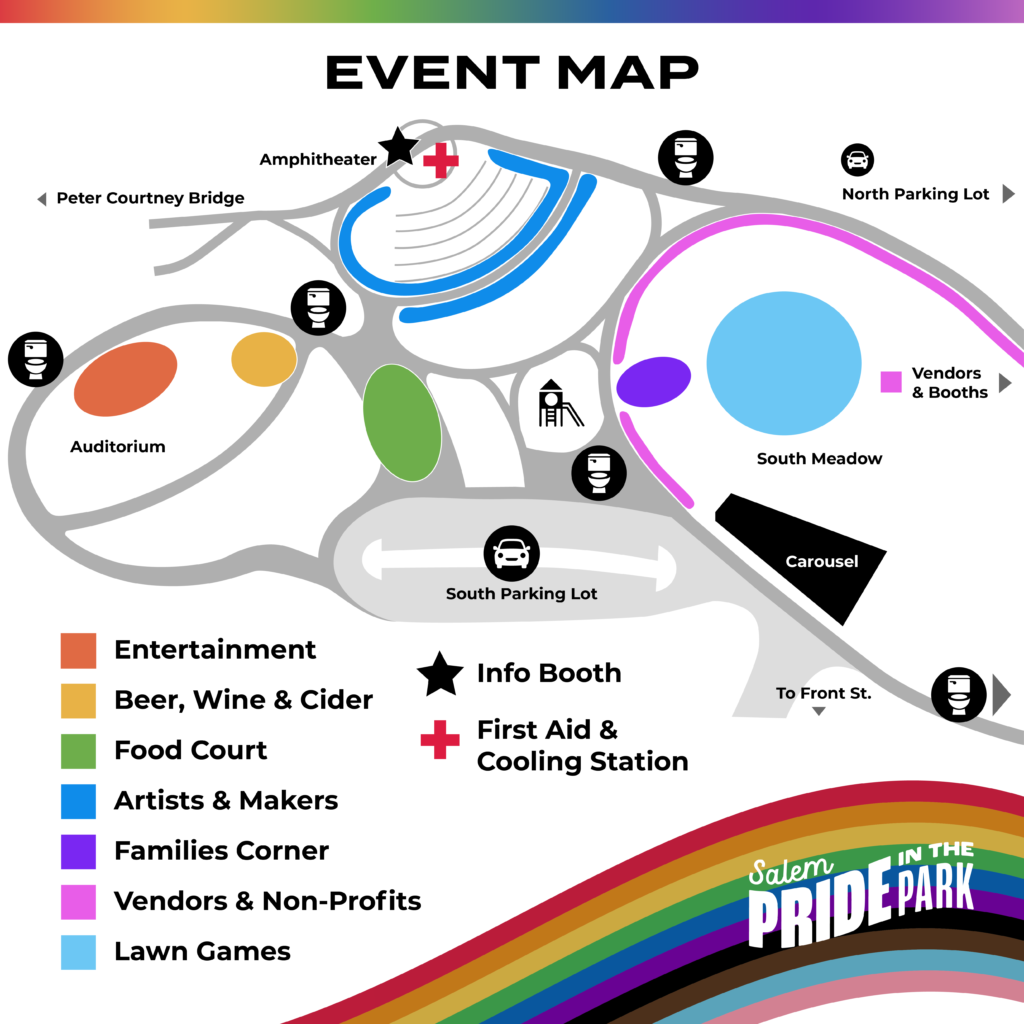 ---
Entertainment Schedule
| | |
| --- | --- |
| 10:10am | Skeleton Boy |
| 10:35am | Drag Performances |
| 10:50am | Queertet |
| 11:05am | Drag Performances |
| 12:55pm | Sunset Bends |
| 1:20pm | Diana Ramsey |
| 1:35pm | Drag Performances |
| 2:10pm | Confluence Willamette Valley LGBT Chorus |
| 2:30pm | Temple the Bard |
| 3:05pm | Reptile Lovechild |
| 3:30pm | DJ JENN JARRED |
| 3:55pm | Drag Performances |
| 4:30pm | Sadgasm |
| 5:15pm | Sunwell |
Drag Performers
Richard Rider
Heavy Cream
Mulan Rouge
Willow Shrimp
Jenna Talia Calienté
Aliison Underlynd De'Cantor
Kristal De'Cantor
Galexander
Malibu Blvd
Donny Doone Foxx
Riri Calienté
Misha Calitenté
Pricilla Calienté
Juno
Pluto
Prince Stud
Sunshire MacPherson
Vanellope MacPherson DuPont
Frisky the Transgender Reindeer
Mo $Money$
Serenity
Thee Dutchess
---
Become a Sponsor
Sponsor Pride and help keep it free and growing!